Reminder: entry requirements to St Helena - 2 February 2022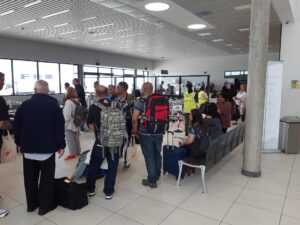 With the COVID-19 pandemic still ongoing, travel and entry to St Helena by air remains subject to various pre and post arrival processes.  This is to minimise the chances of COVID-19 community spread.  Visitors and returning residents to the Island by air are therefore reminded of the following entry requirements:
Before you travel
Passengers must have completed the following before being permitted to travel by air to St Helena:
Passengers must present a negative PCR test result prior to arrival, as required in accordance with one of the following:
Children under age 5 do not require a PCR test
Passengers travelling directly on to St Helena, having been in South Africa for a maximum of 48 hours, can provide a negative PCR test result not older than 72 hours from the scheduled time of departure from origin to South Africa.
All other passengers will need to show a negative PCR test result not older than 72 hours from the scheduled time of departure to St Helena.
In the event of a delay occurring on a scheduled JNB-HLE flight, no further COVID-19 testing will be required.
The online pre-arrival entry questionnaire must be completed no less than one week prior to the commencement of the journey to St Helena so that the proposed quarantine property can be assessed for suitability. 
You do not need to complete the pre-arrival entry questionnaire if you are transiting St Helena on your journey to Ascension Island.
Anyone testing positive for COVID-19 will not be permitted to fly.
Please note that at present, use of a face mask is compulsory on the aircraft, regardless of the mask-wearing rules in force in your originating country.
Documentation and information relating to COVID-19 quarantine requirements can be found on the SHG website, here.
Upon arrival at the Airport
Passengers arriving at St Helena Airport are required to wear a face mask throughout the arrivals process and on pre-arranged transport, unless they are medically exempted from wearing one.  The arrivals process is:
Passengers are disembarked from the aircraft and processed through Immigration.
Visitors to St Helena will be required to complete the Immigration entry form (for short-term entry i.e., less than six months) which contains both immigration and customs declaration information.  Visitors also must make payment of the entry fee (£20 for those aged 12 years and over; no fee for those less than 12 years of age), show proof of return ticket, and show proof of medical insurance which includes emergency evacuation of at least £175,000 (or equivalent in other currencies).  Those requiring a visa for entry to St Helena will also need to present the pre-approved visa.
Returning residents are not required to pay the entry fee upon arrival, or have proof of return ticket or medical insurance, but must complete the immigration entry form and present proof of residency (either showing Saint status or appropriate exemption).
Once through Immigration, passengers will collect their luggage and will then proceed through Biosecurity and the Customs channels
Passengers will then be given their COVID-19 self-test pack, and information relating to the Coronavirus Regulations and the quarantine period
Passengers will then either depart the airport using their own or pre-arranged transport to their place of quarantine to begin the compulsory 10 day quarantine period
During the quarantine period, arriving persons will have daily contact from SHG Health to check on their well-being, along with a visit by the roving security team
The day before quarantine is scheduled to end, passengers will take another COVID-19 test and upon receipt of a negative result, will be permitted to exit quarantine measures.