Smoking and alcohol restrictions at the Airport - 15 December 2021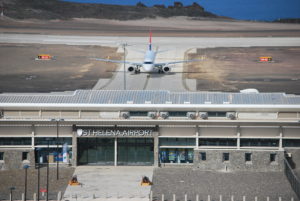 Due to a small number of incidents at St Helena Airport over the past few months involving smoking and alcohol consumption, the public and passengers are reminded of the following:
Smoking
In line with the airport's pledge to be as environmentally friendly as possible, and due to the presence of sensitive airport equipment and combustible items, this is a reminder that the airport is smoke-free.  This means that smoking is not permitted anywhere on the airport premises other than in the designated smoking area.  The designated smoking area is located near to the main car park, to the left of the Terminal Building (as viewed from the entrance to the Terminal Building).  Smokers are required to only smoke in the designated smoking area, where bins and ash trays are provided, and not in the main car park or elsewhere.
See Aerodrome Regulations (2015), Prohibited Acts section, 5(k)
Alcohol consumption
Alcohol is only permitted to be consumed in the 1st floor café in the Terminal Building or the departures café, and only when purchased from those establishments for immediate consumption.  The consumption of alcohol is not permitted anywhere else on the airport premises.
Furthermore, passengers are reminded that if they appear to be in an intoxicated state, they will be denied boarding and further action may be taken.  This is to ensure that passengers and crew can have a safe flight.
See Aerodrome Regulations (2015), Prohibited Acts section, 5(u)
In either circumstance, passengers and visitors to the airport are advised that the authorities may be contacted if a breach of the Aerodrome Regulations occurs or is suspected to have occurred.
St Helena Airport Limited's number one priority is the safety of all who use the airport, and therefore we will ensure that the airport remains a safe, clean, and enjoyable place for everyone to visit.
St Helena Airport Limited, 15 December 2021