Commercial Air Service 'Takes Off' at St Helena Airport - 14 October 2017 - St Helena Airport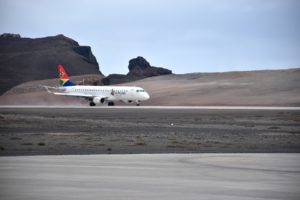 Today began an exciting new chapter in St Helena's history when the first ever commercial flight from South Africa touched down at St Helena Airport at 1.59pm.
Using their Embraer E190-100IGW aircraft, Airlink brought in this inaugural flight from OR Tambo International Airport in Johannesburg, following a six hour journey incorporating a fuelling stop in Windhoek, Namibia. Airlink will now operate a weekly service between St Helena and Johannesburg and St Helena and Cape Town (via the stopover at Windhoek International Airport).
72 passengers comprising returning Saints and invited guests – Tour Operators from Eastcape Tours, Get Africa Travel, Springbok Atlas and Island Holidays, International media – BBC, ITV, The Times, Thomson Reuters, Associated Press and other publications – were greeted by HE Governor Lisa Phillips on arrival and then by a full St Helenian welcome in the packed Arrivals Hall.
Speaking about today's flight, HE Governor Lisa Phillips, said:
"For St Helena, today is the start of a bright new future. We are determined to make sure that air services work to benefit all St Helenians and bring about a higher standard of living for those on the Island. We are open for business and investment and we know tourists will marvel at the beauty of the Island. We are happy to welcome our visitors to the 'secret of the South Atlantic'."
Sales and Marketing Manager in Airlink, Karin Murray, added:
"This is a momentous historic occasion for St Helena, its citizens and its stakeholders. On behalf of all of us at Airlink, the staff, the Board of Directors and the Shareholders of Airlink, I hereby express our absolute joy and pride at having accomplished this inaugural flight and for having established this scheduled public air transportation air bridge for St Helena. This is indeed a privilege for Airlink and we congratulate St Helena on achieving this auspicious milestone which has been many years in the making."
To mark today's momentous occasion, guests will undertake a full itinerary of visits to key tourist attractions on St Helena. A reception at Plantation House is also being hosted by Governor Lisa Phillips for all passengers onboard today's flight and for key people involved in the arrangements leading up to today.
The flight will depart St Helena tomorrow, Sunday 15 October 2017, at 2.30pm.
The commencement of a commercial air service is St Helena's link to the rest of the world and will transform the Island's tourism industry. The growth of the tourism industry will have a positive knock-on effect for other sectors including, agriculture, fisheries and construction.
The weekly air service on a Saturday will make it cheaper, quicker and easier to travel to and from St Helena, and will help ensure the Island's long term prosperity.
Airlink will also operate a monthly charter service between St Helena and Ascension Island. This service will commence with the first flight from St Helena on Saturday, 18 November 2017, and returning on Sunday, 19 November. Thereafter the flight will take place on the second weekend of every month.
A gallery of photographs can be viewed here.