Calibration flight today - 12 July 2016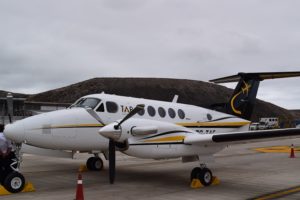 A Beechcraft King Air aircraft operated by TAB Charters is expected to arrive at St Helena Airport this afternoon at approximately 13.30hrs.  On board will be the team from Flight Calibration Services Limited (FCSL) for the purpose of undertaking routine calibration flights in connection with the navigation aids at the Airport.
FCSL and Tab Charters carried out the earlier calibration flights at St Helena Airport, so are familiar names to the Island.  Their most recent visit was in December 2015.
A regular schedule is now in place at the Airport for calibration flights to be carried out every six months in order to meet the normal ongoing requirements for Airport Certification.
The flight is expected to depart later this week upon completion of all calibration tasks.