Airlink completes successful Proving Flight to St Helena - 22 August 2017 - St Helena Airport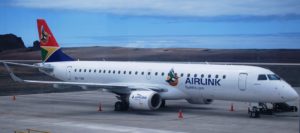 Airlink's Embraer E190-100IGW aircraft departed St Helena Airport at 3.11pm this afternoon, Tuesday 22 August 2017, having carried out a successful proving flight to St Helena. The aircraft is on its way to Johannesburg, South Africa.
The proving flight was for Airlink to demonstrate to the South African Civil Aviation Authority (SACAA) operational proficiency in terms of ETOPS (Extended Range Twin Engine Operations) requirements. This is a routine exercise for new air services, and part of the preparations for introducing an air service on a new route.
A two-day programme was prepared to cover training and audits at St Helena Airport as well as various discussions with key stakeholders on-Island. During their visit, Airlink was able to assess Air Traffic Control, communications & navigation systems, emergency services, Rescue & Fire Fighting Services, Ground Handling Services, Passenger Assistance, terminal building facilities, and security.
As part of the training programme, Airlink carried out a total of 13 flight trials at St Helena Airport on Monday afternoon. These included 'circuits and bumps' – where the aircraft circles the runway, comes in to land, touches the wheels to the runway, and immediately takes off again for another circuit.
Head of Operations at St Helena Airport, Gwyneth Howell, said:
"The audits and training on Airlink's systems and procedures at the Airport have gone very well over the past couple of days and the Basil Read Airport Operations Team is excited and ready for Airlink's scheduled flights to commence."
Alongside the training and audits, there has been a great deal of work underway on the practical planning for the commencement of the air service and the opportunities for tourism development that the air service will bring.
Airport Director, Janet Lawrence, said:
"The proving flight has brought together the different specialisms from SACAA, Airlink, St Helena Airport, potential tour operators and those working in the tourism sector.  My thanks to everyone who made the visit a success.  The reality of a regular scheduled air service and the opportunities it will offer the Island is fast approaching."
It is anticipated that ticket fares and the commencement date for air services to St Helena will be announced shortly.