Titan Airways' successful visit to St Helena - 31 July 2020 - St Helena Airport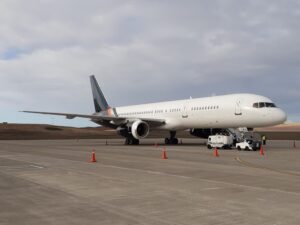 A Boeing 757-200 operated by Titan Airways and chartered by St Helena Government made a successful visit to St Helena Airport in order to repatriate passengers to and from St Helena Island.
The aircraft arrived at just after 4pm on Thursday 30 July 2020 for an overnight stop, having travelled from London Stansted via Gran Canaria and Ascension Island, bringing with it 51 passengers and 10 crew.
On Friday 31 July, prior to its return to London Stansted, the aircraft conducted a series of take-offs and landings in both directions to allow the pilots to familiarise themselves with the approach to St Helena Airport.  At 10:06 local time, the aircraft then departed with 94 passengers on its return journey.
Additional photographs and video of the aircraft's visit can be found on the St Helena Airport Limited Facebook page – www.facebook.com/st.helena.airport