Technical stop for Embraer E190-E2 test aircraft at St Helena Airport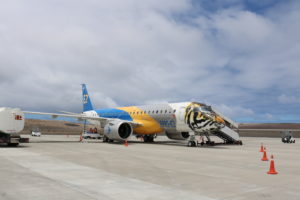 An Embraer E190-E2 aircraft made a technical stop at St Helena Airport today on its way to the Singapore Airshow to be held next month.
The aircraft made a planned technical stop to take on fuel, having flown from Sao Jose dos Campos via Recife.  It then continued on to Johannesburg where it will continue on to Singapore to take part in the Airshow that runs from the 6 to 11 February 2018.