St Helena Airport is 4 years old today - 10 May 2020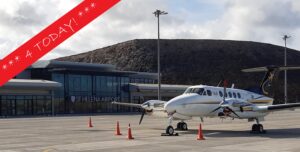 On 10 May 2016, St Helena Airport received its Aerodrome Certificate from its regulator, Air Safety Support International (ASSI), signalling the first time St Helena could be accessed by air in its 500+ year history.
In the four years since the Airport received its certificate, over 22,000 people have used it.  Increasing numbers of tourists have had the opportunity to make a 'bucket list' trip to St Helena by air in order to experience its diverse landscapes and life on a remote island in the South Atlantic Ocean.  It has also allowed former residents the chance to visit family and friends, some of whom they may not have seen for decades, and likewise it has given residents the opportunity to visit family and friends abroad without having to spend 10 days at sea.
Not only has the air link allowed people who are 'time poor' to visit, and permitting better connectivity for businesses, it has also allowed 60 patients requiring urgent medical assistance to get access to advanced medical treatment in South Africa in a matter of hours.  This is a significant improvement on sea access when those who were seriously unwell would endure a five-day journey by sea.  The Airport has also supported the importation of cargo, including fresh fruit and vegetables, urgent spare parts for equipment and vehicles, and live animals.  And it has allowed fresh premium tuna to be exported to international markets.
Today the Airport remains open and certified, despite the very challenging conditions that the fight against COVID-19 demands.  Now, more than ever, immediate access to the rest of the world is vital for St Helena to ensure that it can continue to receive medical staff, equipment and supplies, as well as support access for those who need it.  As such, the Airport remains the international gateway to St Helena Island.