Another successful visit to St Helena by Titan Airways - 2 December 2020 -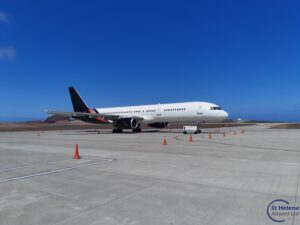 The Titan Airways Boeing 757-200 (G-ZAPX) made another successful visit to St Helena at the end of November. The flight originated at London Stansted on Monday 30 November and flew to St Helena via a technical stop in Accra, Ghana; it flew 70 passengers and 3 tonnes of cargo to the Island. The aircraft then overnighted on St Helena before performing a shuttle run to Ascension Island on Tuesday 1st December. It then returned to London Stansted via Accra from St Helena on Wednesday 2nd December.
All of the usual COVID-19 precautions were in place for the flight, with suitable PPE used by passengers, crew and ground staff.
This is the last planned commercial flight for St Helena in 2020, a year that has seen significant challenges for civil aviation and the world following the outbreak of the COVID-19 pandemic. Like other airports, St Helena Airport has seen a dramatic decrease in passenger numbers in 2020 compared with 2019, dropping by 63% to around 3,500.