Annual Environmental Report for St Helena Airport - 1 December 2021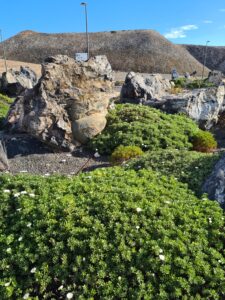 The St Helena Airport Annual Environmental Report (AER) has been published.  Each year, the environmental management performance of the Airport is assessed and rated by an external environmental consultant.  For the first time, there were no major findings in the Airport's AER.  The report for 2020/21 (July 2020 to June 2021) can be found here (PDF format).
St Helena Airport Limited (SHAL) is acutely aware of its environmental responsibilities and indeed has become accredited to Level 1 of the Airports Council International (ACI) Airport Carbon Accreditation programme.  This programme commits SHAL to reducing its carbon usage through a reduction in the use of fossil fuels, and a proactive approach towards environmental management and improvement.  To that end, SHAL has committed to planting one endemic tree in Millennium Forest for every flight rotation in FY2021/22 (a rotation being an arrival and departure).