Airport to be open to the public on 20 October 2021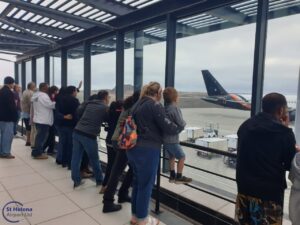 Following the success of the opening of the airport to the public in September 2021, the airport will once again be open to the public, on Wednesday 20 October. This is currently the scheduled departure date for the Titan Airways flight back to London Stansted via Accra; the departure time is set for 9:00 a.m.
The 1st floor cafe and viewing deck will be open to departing passengers and the public alike – food and drink will be available for purchase.
The public is reassured that the usual COVID-19 preventative measures are in place at the airport, and to that end, access to the airport for the public is not permitted on Monday or Tuesday of next week to eliminate any potential risk to the public from passengers arriving from the UK (Monday 18 October) to stay on St Helena or to transit to Ascension Island the next day (Tuesday 19 October).
However, members of the public meeting persons from the UK flight on Monday 18 October are permitted to wait in the airport car park to collect them if they are quarantining together.