Airlink flights unaffected by SAA business rescue - 5 December 2019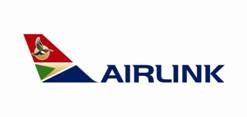 Airlink flights and schedule will continue to operate as normal regardless of South African Airways (SAA) being placed in business rescue today.
Airlink, which is a privately owned airline, is an SAA code-share and franchise business partner.   However Airlink operates its own aircraft, crew and facilities and therefore is not affected by the difficulties in which SAA currently finds itself.  As such, flights to and from St Helena should continue as usual.
"As a creditor and business partner, we have been concerned about SAA's financial crisis. However, Airlink is a financially sound, commercially agile and robust business with the resilience to see out the storm. Airlink customers can be assured there will be no disruptions to our schedule as a result of the latest SAA developments and we will continue to do business as usual," said Airlink CEO and Managing Director, Rodger Foster.