St Helena Airport's response to the Novel coronavirus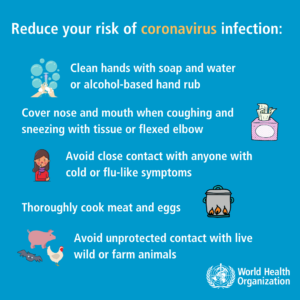 The World Health Organisation classified the Novel coronavirus outbreak (COVID-19) as a Public Health Emergency of International Concern (PHEIC) on 30 January 2020.  As a result, St Helena Airport has introduced additional procedures and precautions in an effort to minimise the possibility of a carrier bringing the virus to our small, remote community on St Helena.
St Helena Airport Limited is working with all stakeholders at the airport to monitor the situation, both locally and globally, and will implement additional proactive and reactive measures to protect staff and the public.
These measures include assessing arriving passengers based on recent travel history through the use of a questionnaire, and the use of a temperature sensor to check for possible signs of fever.
Passengers and the public can greatly assist with minimising the likelihood of the spread of the virus by taking precautions such as:
Frequently cleaning your hands by using alcohol-based hand rub or soap and water;
When coughing and sneezing, covering your mouth and nose with flexed elbow or tissue – throw the tissue away immediately and wash hands;
Avoiding close contact with anyone who has fever and cough;
If you have a fever, cough and difficulty breathing, seeking medical care early and sharing previous travel history;
Eating well-cooked food; and
When visiting live markets in areas currently experiencing cases of novel coronavirus, avoiding direct unprotected contact with live animals and surfaces in contact with animals.
St Helena Government has issued further advice on its response to the outbreak – it can be found here.
Further information and advice can be found on the WHO website.
Information about aircraft cabin air quality has been developed by IATA: IATA cabin air quality brief.  HEPA filters are fitted to the Airlink Embraer E190 aircraft.