COVID-19 protection measures at St Helena Airport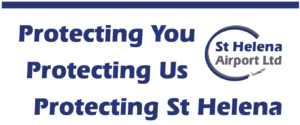 Whilst the COVID-19 pandemic remains ongoing, there are a number of protection measures in place at St Helena Airport to reduce the likelihood of the virus spreading in the St Helenian community.  These measures are only effective if visitors and staff work together for everyone's benefit.
Protecting You
St Helena Airport Limited have the following measures in place to help protect you:
Staff will wear face masks when passengers and crew arrive from other countries
Staff will, where possible, maintain an accepted distance from all persons
All staff are instructed to sanitise their hands
Desk screens are installed to add an effective physical barrier whilst still permitting interaction between staff and visitors
Robust cleaning regimes have been developed to (for example), more regularly clean 'shared' surfaces such as desks, trolleys, security trays, and washrooms
A briefing session is given to all staff prior to the arrival of every aircraft to remind them of these measures.
These protection measures have been designed to reduce the chances of contamination and cross-contamination.
Protecting Us
Visitors to the Airport, are asked to adhere to the following measures to assist the Airport with minimising COVID-19 spread:
Wear your face mask unless otherwise directed to do so
Regularly sanitise your hands, particularly before and after using 'shared' surfaces (desks, washrooms, security trays, etc.)
Keep your distance from other people wherever possible.
Protecting St Helena
When we work together to try to reduce the spread of COVID-19, it benefits you, the Airport and the St Helenian community.